Panama City Toyota's Café FJ – This custom-built Toyota Landcruiser themed café offers a full service hot and cold coffee bar with an espresso machine, coffee brewers and a nitro cold brew tap. The food offerings included freshly made sandwiches, wraps, salads, and baked goods. The cold case offers juices and other soft drinks.
We often ask clients about incorporating a Café into their new build or renovation project. The topic is typically met with some resistance. Almost without exception, it is a result of just not understanding how easy it is. Putting a café in your dealership is easier than you think.
Most dealerships offer coffee, bottled water and donuts. Some stores, in an effort to offer healthy options will put out a snack bowl of granola bars, cookies and fruit.   There is even still the occasional popcorn machine, which I will leave for another discussion. Last but not least, the vending machines that are typically found in the service drive or down a hallway. The above is typically the extent of what options customers and staff have in the way of refreshments. However, addressing this topic as a part of a project plan is an opportunity to elevate the customer experience by offering something more.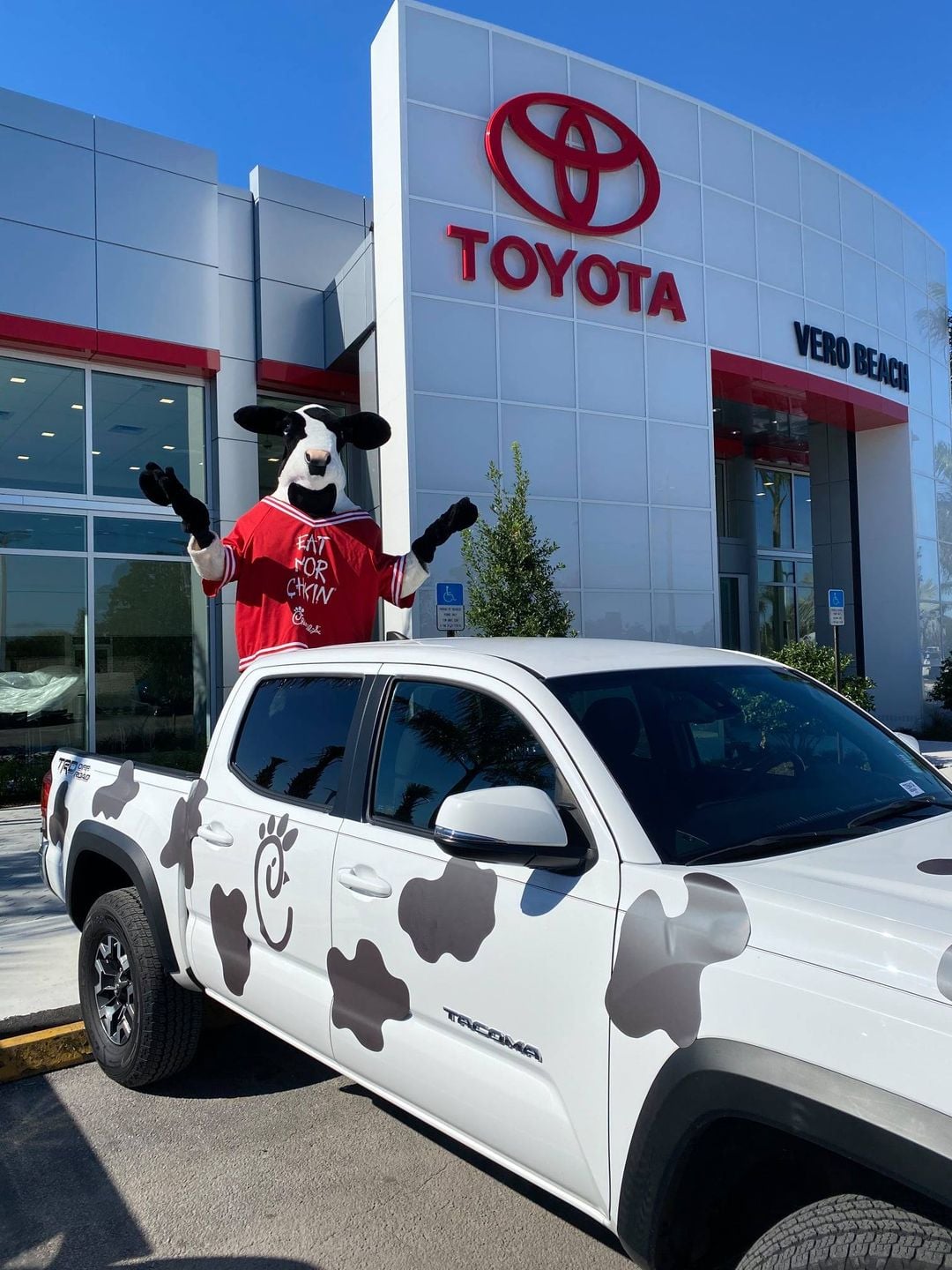 Vero Beach Toyota partnered with the local Chick-fil-A, franchisee.  This Café serves fresh food starting at 8am, running through the balance of the day.  
Elevating the customer experience is really the end goal in every approach to hospitality. The customer's expectations, though, are higher than ever. This means offering quality coffee and espresso-based drinks, premade quality sandwiches, baked goods, packaged snacks.
Years ago, having fresh food on site at a dealership was a huge commitment. They were required to create a full restaurant onsite. Three compartment sinks, grease traps, fire suppression, licensing, and inspections, most dealerships didn't have the time, staff or square footage required to make that commitment.  Today the choices are endless because food is all prepared off-site and brought in fresh by provider partners. The complexity level drops off and local government requirements become much easier. This is the main reason why we tell clients putting a café in your dealership is easier than you think.
A well thought out café concept has the potential for additional revenue streams.  Cafés keep customers inside the dealership longer. Well placed branded product displays for clothing and other items as well as vehicle customizing options can create retail sales.    Cafes create additional potential service revenue for customers looking to get the vehicle serviced over lunch or dinner hour since they don't have to leave the premises to find food after dropping off their car. Additionally cafés create an easy goodwill opportunity for the dealership through free food and drink coupons which also will keep potential retail clients on site, when they want to "go and grab something to eat while they think about it."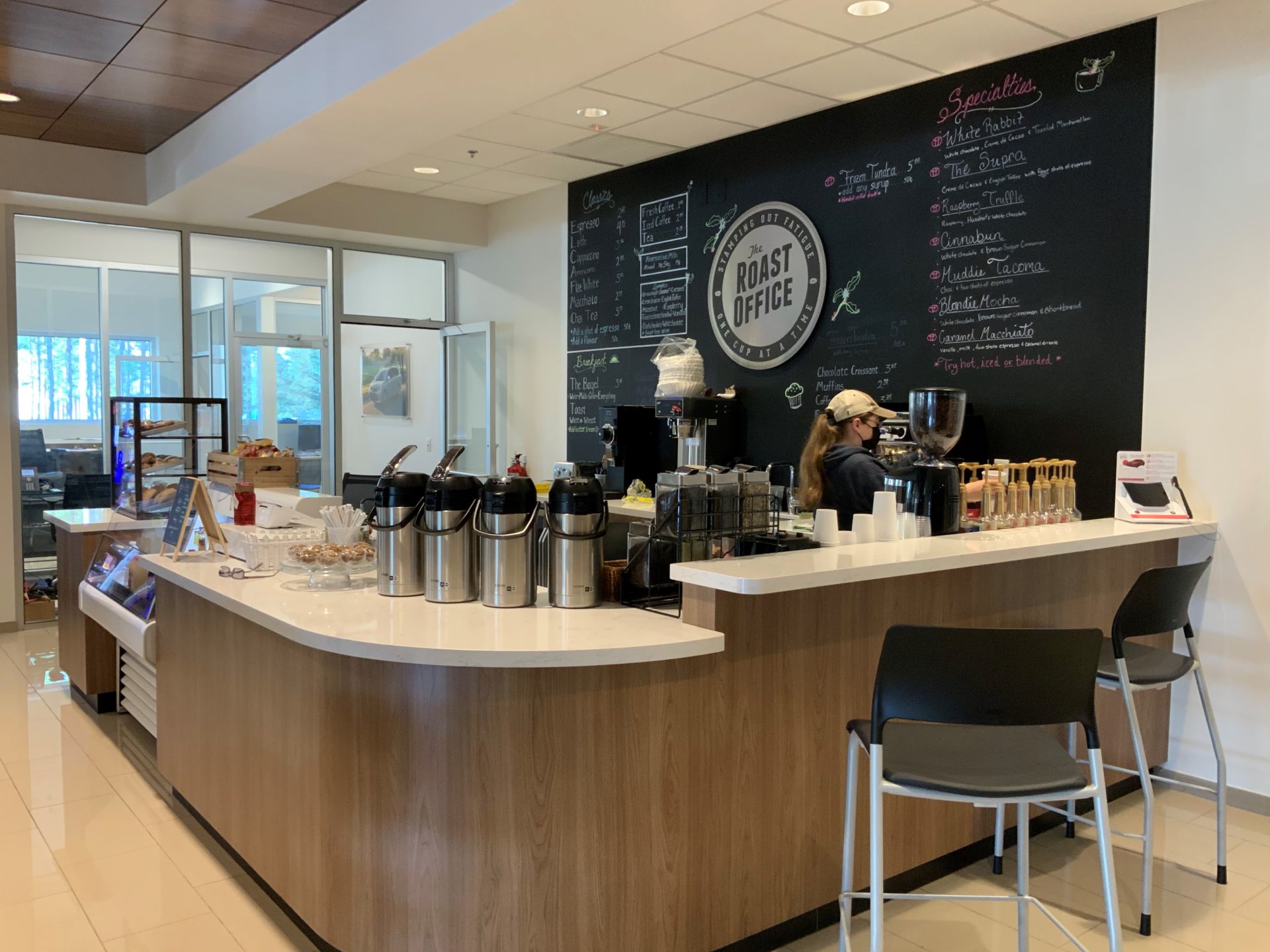 Pinehurst Toyota partnered with a local chef who staffs the café. The Roast Office Express is a scaled down version of their original location housed at the Old Post Office in the village of Pinehurst, NC. In addition to an array of premade sandwiches, pastries and baked goods, this location offers Toyota inspired coffee drinks. The Tundra and Supra are just two examples, with the Supra getting a few extra shots of espresso.
Finding the right food service partner is key to the success of the café concept. Lately, we have had great success including Chick-fil-a in our planning and design process.   A fully built-out café with a small bar sink, under counter refrigerators, warming drawer, and a refrigerated display case is provided to the franchisee. Dual branded signage, linking the dealership and Chick-Fil-a is also provided both inside and outside of the facility.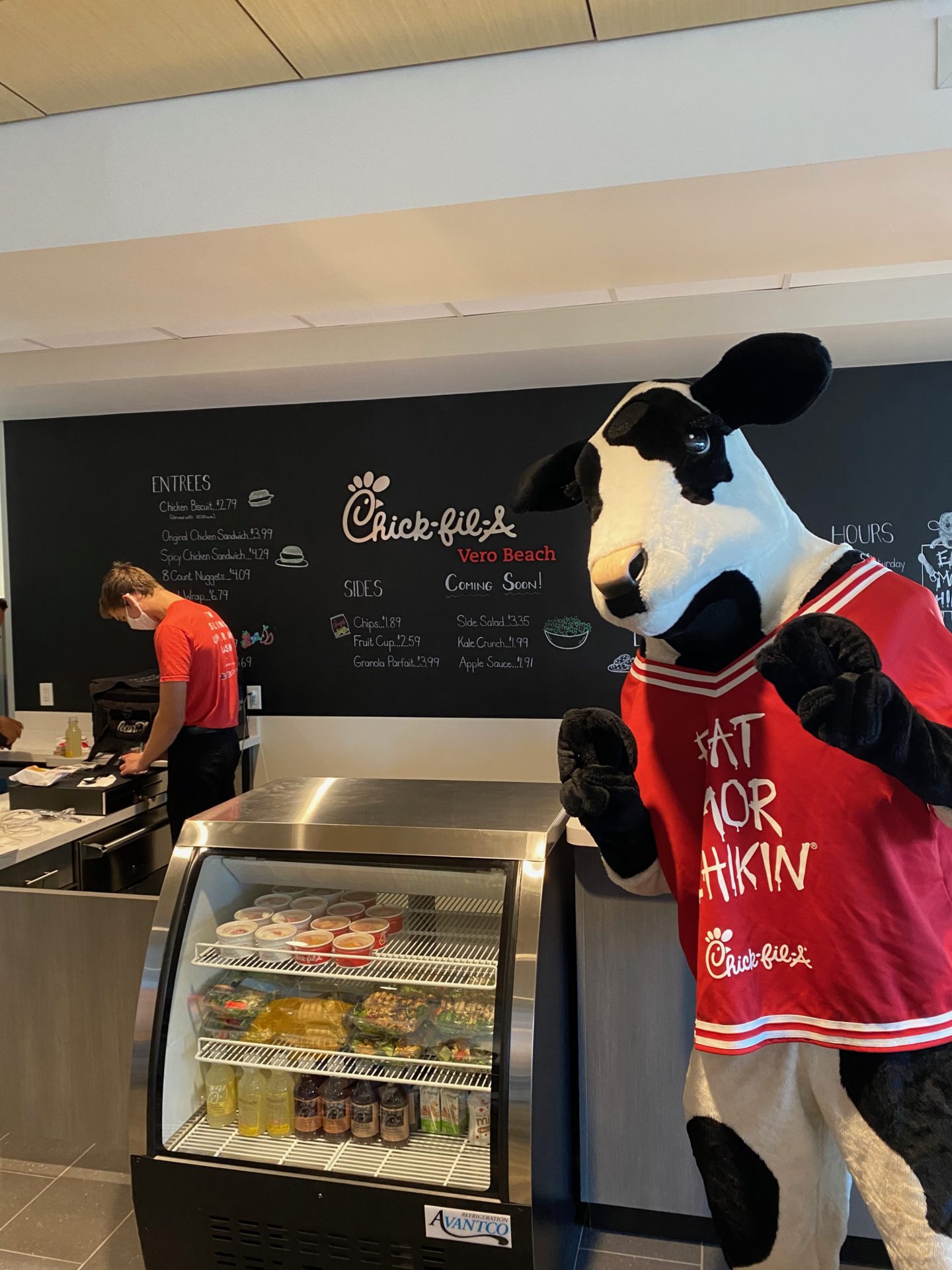 In the case of our recent Vero Beach Toyota project, the local Chick-fil-a staffs the cafe, brings over breakfast items first thing each morning, and lunch items arrive for 11am. The café is restocked throughout the day with fresh hot and cold offerings.
Greg Finley, the dealer principal at Panama City Toyota, had the café planned as part of his strategy for the whole project. "We knew from the outset that a key pillar of our facility renovation would a dynamic hospitality concept. Said Finley. "We believe the concept was fully realized with Café FJ." Besides fresh food offerings, Cafe FJ offers a full-service espresso bar along with nitro cold brew from a tap
In all three cases, the food is prepared off-site and brought in fresh each day along with an array of beverage options. By offering, fresh, fast, and healthy food options in your dealership, you are keeping customers on premises by giving them good food options.  You're keeping your staff happy with something they can grab quickly and not have to use up their precious break time to go off site for food. In every case including a café has been a win for our clients, both financially and in improved CSI.  So why not consider it?  Remember, putting a café in your dealership is easier than you think.