In addition to their experience in retail automotive projects, the ID Automotive team has a wealth of experience working directly with manufacturers. Our team has multiple years of direct experience working for automotive manufacturers and suppliers managing visual image and branding programs. Whether developing and rolling out a new dealer branding program, or performing facility audits, ID Automotive is your partner of choice.
MANUFACTURER REPRESENTATION
ID Automotive is a Facility Partner to Rolls-Royce Motor Cars, North America. We work closely with the manufacturer's team both in the US and in the United Kingdom on projects revolving around the company's new visual image program for their global retail partners. Part of the scope of our work is to assist in the development of vendor partners to provide bespoke furniture, millwork, flooring, A/V and signage to the program. This includes vetting potential partners soliciting RFPs and RFQs and presenting recommendations. Once the program rolls out, ID Automotive's team works closely with each dealership's owner, architect and construction team to develop the Design Intent Document. In this role, we coordinate the required vendors and ensure that each location meets the standards set by the team in Goodwood, England. As the project advances, we work hand in hand with the owner and construction team to bring the project to successful completion, all the while providing updates and images to the manufacturer on each project's progress.
If required, ID automotive can provide FAA-certified 4K drone video and high-resolution photography while on site.
As the construction project nears completion, ID Automotive's team will visit the site for a comprehensive walk through and punch-list review with the owner and contractor. This ensures the final product is to the manufacturer's and owner's standard before the doors open to customers. Additionally, before the end of the first year, we conduct a post-occupancy evaluation. We review the condition of all the required branding elements, and if anything needs to be addressed while still under warranty, we work with the provider to ensure the dealer's investment is protected.
SITE REVIEWS AND PROPERTY INSPECTIONS
We are often asked by manufacturers to assist dealers in the early stages of their facility buy/sell discussions. We review potential acquisitions, assessing the site, the building infrastructure and the most critical of questions: What will be required to bring this location up to the manufacturer's brand standards?
PROJECT DEVELOPMENT AND DELIVERY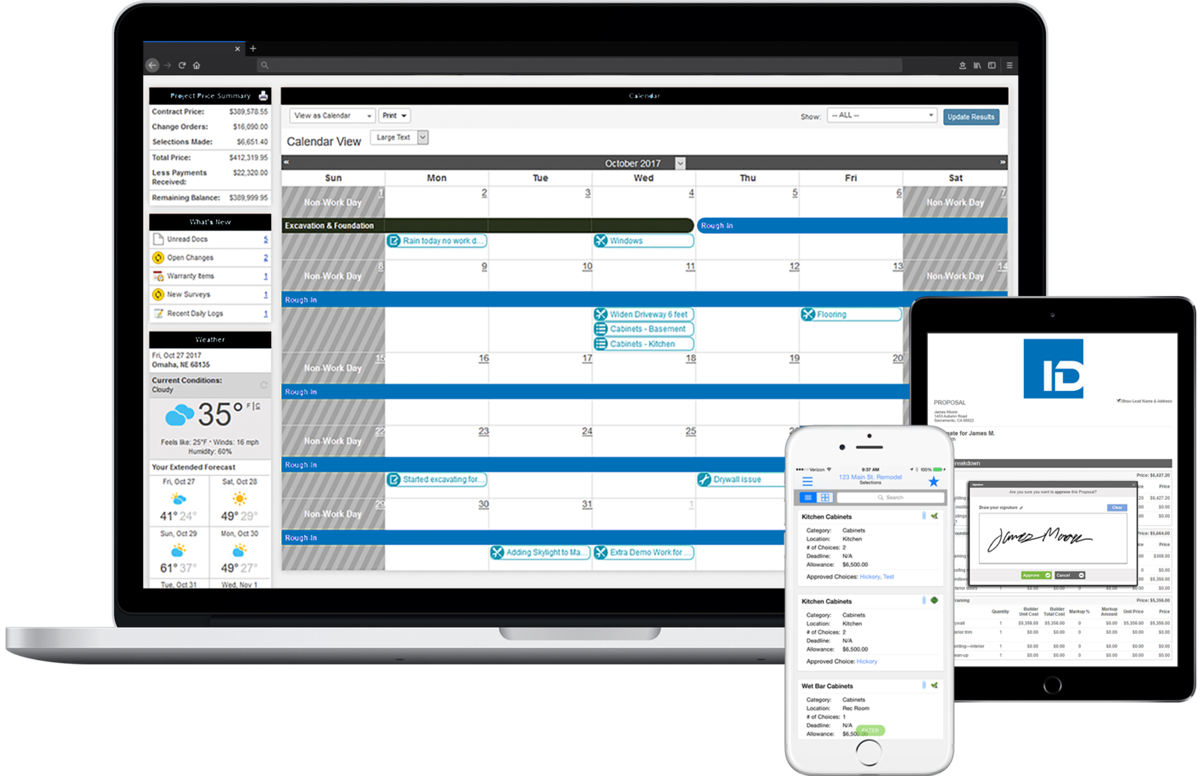 Our cloud-based, project-management software lets us track and manage our clients' projects from any smart phone, tablet or desktop. Budgets, schedules, drawings, progress photos and daily logs – everything about your project – is accessible via a dashboard view. Whether you have a single-point project or multiple projects, you have access to a real-time view of your project(s) through your owner project portal.
We look forward to hearing from you.